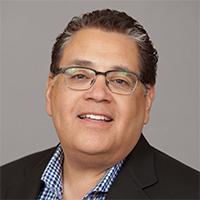 Arturo Marchand
About Arturo Marchand
M.D., F.A.C.C.
Dr. Marchand earned his medical doctorate from the University of Southern California – School of Medicine in 1990. He went on to complete his Cardiology Fellowship program at the University of California, San Diego in 1996 and his Fellowship in Interventional Cardiology in Phoenix, Arizona at the Arizona Heart Institute and Foundation in 1997.
Dr. Marchand's passion for medicine is exemplified by his consistent desire to provide the best possible care for his patients to improve their quality of life. He serves as a specialist in both interventional cardiology and vascular care, with a consistent focus on providing new, less-invasive treatment options to meet all his patients' cardiovascular care needs.
In 2012, Dr. Arturo Marchand established the Latino American Medical Professionals (LAMP) of Nevada non-profit organization to serve as a central hub for the local Latino healthcare community. He speaks fluent Spanish and is dedicated to expanding and connecting Latinos in the healthcare community and jumpstarting initiatives to give back to the community.
Because of his dedication, professionalism and compassion throughout his over 20 years of cardiovascular experience, Dr. Marchand has established himself as an area leader in Las Vegas interventional cardiology and vein treatment.