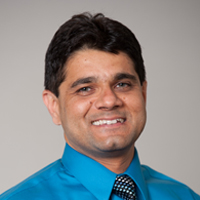 Shahabuddin Khan
About Shahabuddin Khan
M.D., F.A.C.C. F.S.C.A.I.
Dr. Khan was born in Zambia. He grew up in India and Zimbabwe, and graduated from the University of Zimbabwe School of Medicine in 1995. Dr. Khan was recognized as the "Top Medical Graduate" while also breaking several academic records. After working for a year in Zimbabwe serving underprivileged patients, he moved to the United States to complete his medical residency at Saint Luke's Medical Center/St. Vincent Charity Hospital in Cleveland, Ohio. This was followed by a three year Fellowship in Cardiovascular Medicine and a one year Fellowship in Cardiac and Peripheral Vascular Interventions at St. John Medical Center in Detroit, Michigan. Dr. Khan served as Chief Resident and Chief Fellow during his training. He is Board Certified in Internal Medicine, Cardiovascular Medicine, Interventional Cardiology, Cardiovascular Computed Tomography and Nuclear Cardiology.
He specializes in both Cardiac and Peripheral Vascular Interventions, including carotid artery stenting and was the first cardiologist to perform carotid stents in Las Vegas. Dr. Khan is the highest volume operator for carotid stents in Southern Nevada and Northern Arizona. He has also served as the Medical Director of the Cardiac Catherization Lab and Chest Pain Center at Centennial Hills Hospital. Dr. Khan and his wife, Sharlin, have three beautiful children. His wife has a Ph.D. in genetics and molecular biology. They both enjoy foreign culture and history, traveling widely, hiking and SCUBA diving.