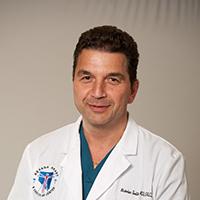 Nicholas Tselikis
About Nicholas Tselikis
M.D., F.A.C.C. F.S.C.A.I.
Dr. Tselikis is a native of Montreal, Canada. After completing his undergraduate education at Northeastern University, he received his medical degree from Ross University, School of Medicine. His Internship at St. Barnabas Hospital in New York was then followed by Internal Medicine Residency and Cardiology Fellowship training at St. John and Providence Hospitals in Michigan. He is board certified in Cardiology and Interventional Cardiology. Since 1993, Dr. Tselikis has practiced Interventional Cardiology in Las Vegas.
He is a Fellow of the American College of Cardiology and Society for Cardiovascular Angiography and Interventions. His interests include hockey, tennis and travel. He spends his personal time with his wife and three children.